Of the 34 million Americans who care for older family members, roughly 15 percent are long-distance caregivers. In fact, if you live an hour or more away from a person who needs your care, you are considered a long-distance caregiver. The large number of long-distance caregivers is not surprising. As children enter adulthood many move away from home for higher education, work, relationships or to live their passion. Caregiving in general can be challenging but long-distance caregiving comes with even more unique challenges. So, how can you better manage caregiving from a distance? Here are 8 tips for long-distance caregiving.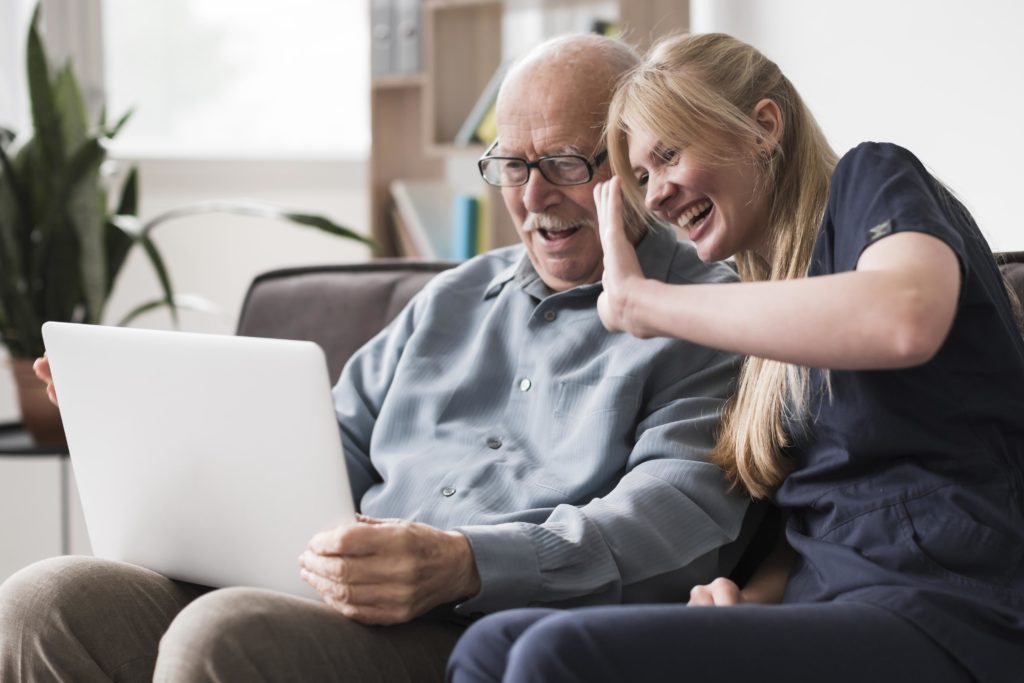 Know and connect with their healthcare providers.
Even though you may not have the option of accompanying your loved one to their medical appointments, you can still build a connection to gain their physician's unbiased assessment of your loved one's health and advocate for their care. Start by creating a detailed list of your loved one's medical providers. Then reach out and ask for a telehealth meeting or call. Your loved one may have an online portal from their healthcare provider where you can gain access to ask questions or follow their care. Your loved one will need to authorize the doctor to release their private health information to you, but it is typically a simple HIPAA release form that will need to be filled out. Or you can consider gaining Medical Power of Attorney. Connecting to their medical providers can give you peace of mind by having a realistic view of their health and allow you to be more involved in advocating for their care.
Build a support system.
It's important to have people nearby who can act as a support system when needed. Build a contact list of their friends, trustworthy neighbors or members of their church. There's nothing more worrisome than when a loved one does not answer the phone for several hours. You need someone nearby who can check on mom or dad when needed. Many neighborhoods now have neighborhood Facebook pages. Ask to join, this is a great way to keep up with what's happening in the neighborhood.
Communicate more often.
If you are caring for a loved one who's far away, you know how challenging it can be to have a realistic view of how they are faring. Setting up frequent Skype, Zoom or Facetime calls can help you gain a better sense of how your loved one is managing. Visually connecting, even on a screen, can give you cues on how they're doing physically and with selfcare like getting dressed or bathing.
Engage local resources.
If your loved one is having challenges with activities of daily living like housekeeping, grocery shopping or cooking, you can arrange local support. Most grocery stores offer online shopping with curbside pickup and home delivery options. There's also companies like Instacart that will shop for and deliver groceries. You can also research trustworthy housecleaners and arrange bi-weekly or monthly cleans. Consider joining Nextdoor for their neighborhood, never share that your loved one lives alone but this can be a great place to reach out to locals to find local resources for lawncare, home repairs, transportation services and housekeeping.
Set up online banking.
Even from a distance you can help your loved one manage their finances. By setting up online banking and drafts for monthly bills you can provide an easy solution.
Make an emergency plan.
When long-distance caring the biggest worry that keeps you up at night is what if something happens. It's critical to have an emergency plan. Make sure you have copies of important legal and medical documents like insurance policies, advance directives, and their will. Don't forget to have a list of your loved one's current medications. Know where the closest hospitals and first responders are. It's also important to consider gaining healthcare power of attorney and durable power of attorney. Have contact information for neighbors and friends.
Embrace technology.
Consider (with their permission) installing cameras at your loved one's front and back doors as well as in the main rooms of their home like the kitchen and family room. This can alert you to any potential problems like a fall or if it's late in the morning and you're not seeing them move around the house. It will also give you a good view on how they're faring with mobility, their safety and their ability for selfcare. If cameras seem too intrusive then consider web-based sensors or wearable technology. If mom or dad are struggling with medication compliance then an automatic pill dispenser may be an option. Some pill dispensers come with integrated, wireless fall detectors and panic buttons. Sometimes something as simple as an Alexa or Google Assistant can provide additional support in ordering groceries, finding resources, and information your loved one may need, even making phone calls or turning lights on or off.
Remember you.
Caregiving, as rewarding as it can be, is not easy. Long-distance caregiving can come with even more stress, powerful emotions and anxiety. Long-distance caregivers often feel like they are not doing enough. They harbor guilt for not being there more often and struggle with feeling like there is no way they can provide helpful care across the miles. Remember you are doing all you can and even if you can't be there as much as you would like you're still playing an important role in the wellbeing of your loved one. If you are feeling overwhelmed or that endless sense of guilt, consider joining a caregiver support group. Connecting to others who understand what you're experiencing can help you feel less alone in your struggles. Sharing these experiences can bring you a much needed outlet and help you gain perspective. A mental health professional can help with stress management techniques. If your loved one is under our care, ViaQuest Hospice provides emotional support to family caregivers. Just like you being there for your loved one, know there are others who can be there for you.
What if you discover that your loved one needs more help?
Through better communication and getting a closer view of their world you may discover that your loved one needs more care than you can provide. A geriatric care manager who can make in person visits and help arrange in-home care may be an option. If your loved one is living with advance illness and needs extra care then ViaQuest Hospice might be the answer. ViaQuest Hospice provides expert medical care and an extra layer of support. Our care includes, our hospice medical director, nurses who provide expert care and symptom control in the comfort of home, CNAs who help with selfcare, social workers who can help align resources, chaplains for spiritual care and comfort and volunteers who provide emotional support and companionship.
The role of a long-distance caregiver is challenging, but by organizing, aligning resources, leveraging technology and securing local support you can have a huge positive impact on the wellbeing of your loved one.